Discover our company, our employees and our business
Our team is passionate about innovation and technology and uses its creativity to help organisations and teams deliver interoperable solutions.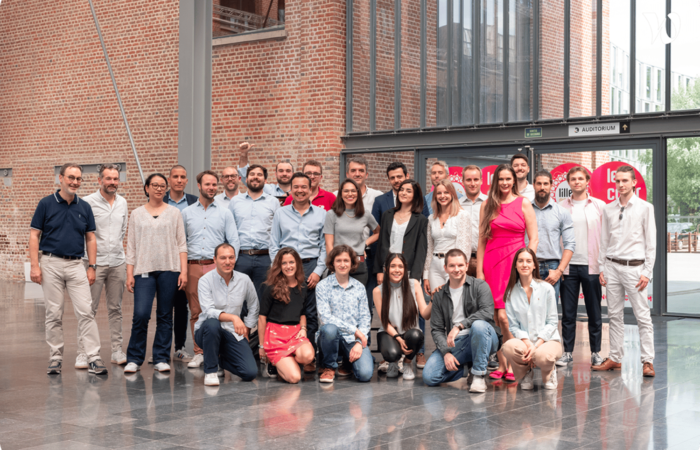 Scale-up and pioneer of Smart Occupancy
During his 20 years deploying smart building and workplace technologies for global clients, Fabien Girerd identified an unfulfilled need for a wireless, low-maintenance, integrated solution connected to the building operating systems to provide an intuitive experience.
In 2014, Fabien created Jooxter in the Hauts-de-France region of France with the goal of helping his clients manage their flex desks and meeting rooms via wireless monitoring. The next step was naturally the launch of the Live Occupancy® solution: the Jooxter solution allows companies to have access to their office occupancy data through a digital platform collecting anonymous data in real time. With this solution, companies can make decisions based on real data and optimize their workspaces. Over the years, Fabien has built a versatile team to meet the needs of clients worldwide. He has turned Jooxter into an award-winning scale-up in the Smart Building field and a recognized expert in the Proptech field in 2021.
As the pandemic accelerated the workplace paradigm shift, our team leveraged its ingenuity and agility to design new digital experiences. Jooxter is helping existing and new clients to navigate the hybrid work model challenges by creating reliable, flexible and scalable digital workplace solutions.
Jooxter is more than ever focused on its vision to bring people together by taking a holistic approach to digital workplace to deliver key business outcomes. To its clients, Jooxter is a strategic partner to enable collaboration, understand office occupancy and facilitate the use and management of the best suited workspaces for employees and
leaders.
Together with partners, we are creating an ecosystem to make your workplace smarter, every day.
The milestones of Jooxter's history
Jooxter's collaborative DNA 
The team is currently composed of 30 collaborators divided into 4 poles of 5 different nationalities and speaking 9 languages. Each one is passionate about his or her field and contributes daily to Jooxter's success.
In constant evolution, we are always looking for new talents. Find our offers and a brief description on Welcome to the Jungle .
Jooxter is first and foremost about expertise
Since its very beginning, Jooxter brought together a team of experts, passionate about the Internet of Things (IoT) and Smart Building. This expertise led Jooxter to become a reference in the Smart Office market, by developing the "Smart Occupancy" service brick.
Developers, marketers, sales developers, and engineers work together to strengthen and continue to improve the solution.
We guarantee a dedicated support throughout all our projects. Our experts carefully personalise each project from the very begining. They create the project, deploy and launch it, and then provide constant support and improvement to our clients. 
We also take part in many events in our sphere of activity.
Over 150,000 employees use Jooxter, how about you?
Everyday we make our clients' and users' workplace smarter
Contact us